The 9 Best Crystals for Money Manifestations – Why and How to Use Them
October 09, 2021
---
One of my best friends is the CEO of a famous multinational company and recently lost a lot of money in an investment that went bad. In the past few months, he's tried everything he can think of to turn his fortunes around, but nothing seems to be working. 
Finally, I suggested he start using crystals to manifest money back into his life. Since it's the one thing he hasn't tried yet, he was interested in hearing more. I invited him over to my place the next day so I could tell him more about how to use money crystals. Our conversation went a little like this.
The Benefits of Using Crystals to Manifest Money
"Hey, Christopher," my friend said. "Thanks for inviting me over. I really hope this crystals for money thing works out. My investment portfolio bums me out every time I look at it." We had a good laugh over that.
"No problem," I said. "Don't worry, crystals for money can definitely work. My little sister used crystals to manifest income for her new business when she opened up shop and it really helped her get things off the ground."
"I feel like I've tried everything at this point, though. What's the difference between this crystals for money method and other money-making methods?"
"The difference is it's more multi-faceted. When you use a crystal to manifest money, you aren't just affecting your wallet. Every crystal has other healing properties built in as well. So while you're manifesting one thing, you're also manifesting success, fulfillment, protection, strength, stuff like that."
Crystals for Money I Recommend for Manifesting Money
My friend kept telling me about his situation, giving me more context so I could recommend a crystal.
"For your case, I'd recommend starting with pyrite," I said. But I also showed him my list of the 9 best wealth-related stones.
Citrine
This sunny-looking stone is one of the best crystals for money. It enhances confidence, willpower, motivation, work ethic, and luck (an important part of every financial endeavor).
Pyrite
Pyrite's also known as fool's gold, but don't let that fool you. It invites abundance, strengthens confidence, and helps combat scarcity in your mind and wallet.
Green Jade
Green jade is one of the most famous crystals for money. It is a time-honored Chinese stone used to attract wealth and harmony. It's also known to soothe the mind during chaos.
Green Aventurine
Brimming with optimistic energy, wear this when you need a mental boost.
Tiger Eye
Tiger eye manifests abundance and the mental strength of its namesake, the tiger.
Clear Quartz
Clear the clutter and sort out your true financial goals with clear quartz.
Lapis Lazuli
There's a notable luxurious feel to lapis lazuli that you don't want to miss out on. It welcomes prosperity, offers protection, and supports clear-headed decision-making.
Amazonite
This stone helps you hit your stride and get into your flow – one of the most important ways to tap into your potential.
Amethyst
Amethyst strikes a balance between peace and prosperity. It'll keep you grounded, even when money problems have you worried. It is also one of the best crystals for money in Chinese culture.
Tips for Using Crystals to Manifest Money
Keep your crystals for money in the left-hand corner of your home

, office, or wherever you make most of your money decisions. This will create a space where you can perform at your best.

Sleep with crystals for money under your pillow to come up with money-making plans in your sleep.

Cleanse your money crystals regularly. You can use water or the light of the moon.

Meditate with your crystals. Hold them in your hand, balance them on your knee, or place them in front of you. Try focusing on them while you meditate to keep your intentions at the top of your mind.

Wear your crystals for money in jewelry or carry them around with you (small pocket crystals are great for this) as a constant reminder and to keep protection around you throughout the day.
Wearing Your Crystals
"I'm having trouble imagining carrying a giant rock around with me or remembering it to keep it in my pocket. Wearing it would be easier to remember. And some of these look really cool. Do you recommend any brands or specific jewelry pieces for wearing crystals for money?"
"Yeah! Here are some awesome brands you should check out."
Money Crystal Bracelets
Combining one of the strongest crystals for money: tiger eye, this bracelet's tiger eye beads harness the power of tiger, drawing success and good fortune to you while emanating charisma and strength.
In addition to the symbolism of the citrine, this chain style is designed to commemorate the power of the human connection – a crucial part of any successful money-making plan.
This rugged, laidback piece feels earthy, yet refined and will draw success toward you.
Money Crystal Necklaces
When your money concerns cause stress, lapis lazuli is an excellent aid. Combining crystals for money, Azuro Crystal Necklace will be your best choice if you want to manifest money.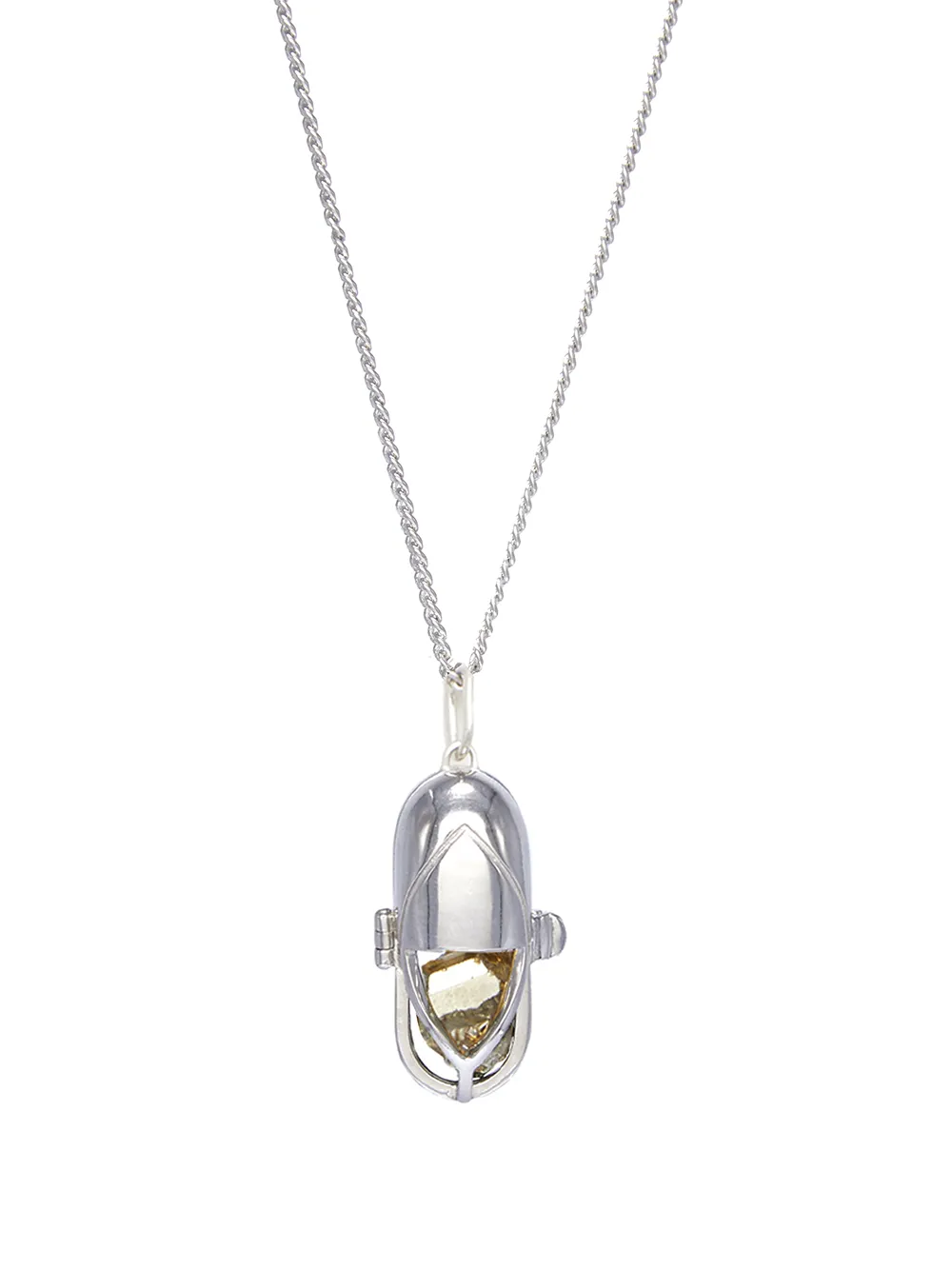 This modern design is a fashion-forward way to hold a crystal close to you throughout your day.
For a regal touch, try this Roman coin necklace set. It's easy to envision success for yourself when you're literally holding a homage to old-world power around your neck.
Other Jewelry with Money Crystals
The deep green stone in this ring brings to mind the rich color of money. The engravings on the side pay homage to nature, reminding us that all wealth is in service of the Earth.
You can't always wear a necklace or bracelet when you're meeting with the Board or high-profile business partners. These tiger's eye cufflinks let you carry your crystal with you even to your most buttoned-up events.
Conclusion
"Thanks for all this advice, Christopher. This is super helpful! I'll have to do some more research on crystals for money when I get home."
"Great! You'll reach your goal soon, but still remember to stay diligent at work. You can't get what you want with the stones alone. They're there to support you, not to do the work for you."