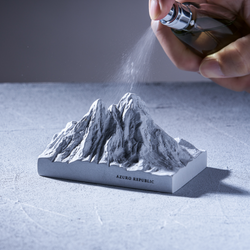 Azuro Republic
Mountain Aroma Stone Diffuser
** For each order over $300, you can get a set of Mountain Aroma Stone Diffuser for FREE **
[ Design of the Mountain Stone Diffuser ]

The diffuser is mainly made of Calcite stone, Calcium Carbonate (CaCo3). During the molding process, we sprayed powders of amethyst, tiger eye, howlite, and jade to reformulate the healing properties. Handcrafted and polished shapes of the mountains give a better absorption of aroma.

Spray a perfume 3-4 times or drop 3-4 drops of essential oil on the mountain diffuser. The color of the mountains will change to darker gray, once the aroma is absorbed, it will change it back to its original color. The scent can remain for up to 3 days.
[ Principle of Diffuse ]

Stone diffuser absorbs moisture through the pores on the surface, adjusts the internal and external moisture to achieve a diffused effect. High humidity flows to low humidity to achieve the effect of diffused. When the stone has higher internal humidity, it releases the scent, moisture into the air. If the stone diffuser has lower internal humidity, it absorbs the moisture from the air.

If you notice the scent fades after a few days, you can simply spray some water on the surface of the stone diffuser to increase the humidity to achieve the effect of diffused.
[ How to Cleanse ]

Soak it in rubbing alcohol with a ratio of 15 water to 1 alcohol for 8-10 hours. Then rinse with clean water, and dry it before use; if you feel that the fragrance still remains, please repeat the above cleansing procedure.
[ Spec ]
Materials: 

Calcite stone, Calcium Carbonate (CaCo3), sprayed powders of amethyst, tiger eye, howlite, and jade.

Weight: 300 grams
Size: 7.5 * 7.5 * 3.0 cm
Included Items:
1)  Mountain Aroma Stone Diffuser *1
2)  Transparent acrylic base & sticker *1
3)  Black washable non-slip sticky pad *1
4)  Marble Paper Box *1
[ Notice ]
The choice of perfume or essential oils:


It is not recommended to use 

perfume or essential oils

with formaldehyde and an alcohol concentration of more than 10% to ensure your health and the diffuser's durability.
How to make a stone diffuser to be fully filled with fragrance:


A total of about 15-25ml of fragrance is required (depending on the concentration of the fragrance). It is recommended to inject the fragrance in batches, not exceeding 10ml each time to avoid overflow.
HOW TO MEASURE YOUR WRIST
We get asked a lot by our customers on how to measure their wrists or how to know his/her wrist size, so we wrote a little 'how-to'.


When measuring your wrist, please measure:
1. at the point just between

your hand

and

the wrist bone
2. in a tighter fit


**Keep in mind that you should NOT add any 'space' yourself to your wrist measurement. If you want the bracelet loose on your wrist, simply write " loose " in (1) the wrist size column before adding to cart or (2) the order note in the cart before checking out. 
( The wrist size column before adding to cart )
( The order note in the cart/before checking out )
>>If you are buying surprise gifts for others and not knowing the exact wrist size, below are some wrist size idea for your reference.
The average wrist-size for men is a 17.78cm / 7 inches
The average wrist-size for women is 16.50cm/ 6.5 inches
Some of our customers might want to measure his/her other bracelets. This is also a great way but please note:
Bracelet length is NOT equal to wrist size as bracelet length stands for outer diameter while wrist size is inner diameter.
Please let us know XX cm/inches is "bracelet length" in the "wrist size column" or "order note" and send a picture of the bracelet you measured to support@azuro-republic.com or 

or contact our online chat room.




(the circumference in the picture is 7.25 inches / 18.40 cm.)
 Don't have a measuring tape?

 
1. Use a piece of string or paper to measure at the point just between your hand and the wrist bone and in a tighter fit.
2. Lay the string/paper back out on a ruler to get your measurement in inches or centimeters.
Please refer to below illustration for your easy understanding.
When ordering, please specify:
1. The exact number on the measuring tape
(in a tighter fit condition).
2. Your wrist circumference
in either centimeters or inches
.
3. You prefer your bracelet a little looser or tighter.


Keep in mind that we do need a wrist-size otherwise, we cannot fulfill your order. If you need any assistance, you can always send us an email (
support@azuro-republic.com
) or contact our online chat room.
- "16.3 cm" refers to the actual number on the tape (in a tighter fit and just below the wrist bone, not adding any space).
- The customer prefers a "tight fit" for his bracelet.
【Notice】Due to high order volumes, weather disruptions and the impact of COVID-19, DHL/FedEx deliveries may experience delays. Allow for additional shipping time to ensure your order is received by the desired date on.
Order Fulfillment (Free shipping for all orders)
Creating your custom made bracelet might takes 2-3 business days if you have provided a wrist-size as well as a valid address, it is then prepared for shipping. We use FedEx International Priority Shipping/DHL Worldwide Express, which has a delivery time between 4 and 7 business days.

Please note that we are not able to ship to an APO/FPO/DPO address 
 
Duties and Fees
Your order may be subject to VAT, import duties and/or taxes, due to the complexity of international laws we do not include those fees in orders. You are responsible for any local customs and duties on your order. We are required by law to disclose the full value of the package contents and cannot alter this value. 

If an order is refused, then you are responsible for the shipping expenses, as well as any additional duties, fees, customs or taxes incurred in shipping. 

 
Shipping Guarantee
We only work with FedEx/DHL, which is a well-established shipping provider and we place our faith and trust in them, however, we cannot guarantee their performance. Shipping mistakes are rare, but we can only guarantee what is in our control.