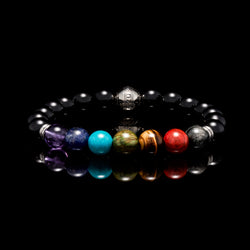 Silver 7 Chakras Bracelet
The 7 Chakra bracelet includes the 7 chakra stones, which are different energy centres that focus on different parts of the body and with different properties. Combine 7 different crystals into a chakra bracelet to help the wearer funneling energy from the universe and to attract wealth, health, and prosperity.

Gem:

 

Obsidian/ Amethyst/ Sodalite/ Turquoise/ Green Jasper/ 
           Tiger Eye/ Red Jasper/ Hawk Eye
Symbol:

Seven Chakra - wealth, health, and prosperity

Color: Pitch Black/ Violet/ Royal Blue/ Earth Green/ Emerald Green/ 
            Cinnamon Brown/ Reddish Cadmium Orange/ Flint Gray
Ornament Material:  

Premium 925 Sterling Silver

Diameter: 8mm
Length: Tailored to size
Weight: 20~35 g subject to length
Azuro enables guest payments to let you pay with your credit card/debit card even if you don't have a PayPal account. 
Here's how this easier checkout works:


During the PayPal Payment page, please select the second option "Pay With Debit or Credit Cards " (below red square part)
Then enter your name and shipping address. You will be prompted for your credit card, email address, and phone number.
(Optional) After reviewing their information, You may choose to save your information by creating a PayPal account to make future transactions faster.
Please note that PayPal's fraud prevention measures remain in effect for buyers who use this checkout. PayPal applies the same techniques for this checkout as it does for other transactions.
【Notice】Due to high order volumes, weather disruptions and the impact of COVID-19, DHL/FedEx deliveries may experience delays. Allow for additional shipping time to ensure your order is received by the desired date on.
Order Fulfillment (Free shipping for all orders)
Creating your custom made bracelet might takes 2-3 business days if you have provided a wrist-size as well as a valid address, it is then prepared for shipping. We use FedEx International Priority Shipping/DHL Worldwide Express, which has a delivery time between 4 and 7 business days.

Please note that we are not able to ship to an APO/FPO/DPO address 
 
Duties and Fees
Your order may be subject to VAT, import duties and/or taxes, due to the complexity of international laws we do not include those fees in orders. You are responsible for any local customs and duties on your order. We are required by law to disclose the full value of the package contents and cannot alter this value. 

If an order is refused, then you are responsible for the shipping expenses, as well as any additional duties, fees, customs or taxes incurred in shipping. 

 
Shipping Guarantee
We only work with FedEx/DHL, which is a well-established shipping provider and we place our faith and trust in them, however, we cannot guarantee their performance. Shipping mistakes are rare, but we can only guarantee what is in our control.
Excellent bracelet
Beautiful bracelet. It actually suits me well.
Likes:
speed, quality, service, design of the package with the the description of every stone which was used
Improvements:
please, send your packages to the USA via USPS. DHL ignored my delivery instructions that's why I could have lost my package. It's a miracle that someone didn't steal it.
Products:
You are great, keep it going
7 Chakras Bracelet
Silver 7 Chakras Bracelet looks gorgeous in real life. It's great for any style: formal or casual. The stones of the bracelet in the picture look more colorful. In real life, the bracelet looks discreet and holistic, and I really like it! The quality of the bracelet is the highest. Thank you very much Azuro, from now on I'm your regular customer.
Likes:
Perfect fit and made with quality
Improvements:
Keep doing the job you're doing
Products:
My next purchase will be a necklace
Silver 7 Chakras Bracelet
In awe
The bracelet is beautiful, really don't have any other words. The bracelet was a gift and my partner and a member of your customer service, texted back and forth, until they had the size right. Thank you, thank you
Improvements:
This is all good.
Products:
Anything with 7 chakras
Gift for my husband
This charka bracelet is for my husband, and he loves it. Will definitely buy more. Thank you Azuro Republic.