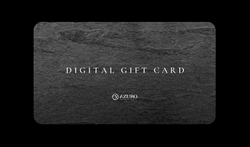 Azuro Republic
Azuro Republic Gift Card
Shopping for someone else but not sure what to give them? We've got you covered. Show you care about them (and the environment) with our digital gift card.
Terms & Conditions
Gift cards are delivered by email and contain instructions to redeem them at checkout.
Gift cards do not expire. They cannot be replaced, refunded or returned. Gift card balances cannot be exchanged for cash. Coupons, promo codes and other discounts are not eligible for gift card purchases. For purchases made with a gift card, standard rules apply for returns and the original gift card will be credited.
HOW TO MEASURE YOUR WRIST
We get asked a lot by our customers on how to measure their wrists or how to know his/her wrist size, so we wrote a little 'how-to'.


When measuring your wrist, please measure:
1. at the point just between

your hand

and

the wrist bone
2. in a tighter fit


**Keep in mind that you should NOT add any 'space' yourself to your wrist measurement. If you want the bracelet loose on your wrist, simply write " loose " in (1) the wrist size column before adding to cart or (2) the order note in the cart before checking out. 
( The wrist size column before adding to cart )
( The order note in the cart/before checking out )
>>If you are buying surprise gifts for others and not knowing the exact wrist size, below are some wrist size idea for your reference.
The average wrist-size for men is a 17.78cm / 7 inches
The average wrist-size for women is 16.50cm/ 6.5 inches
Some of our customers might want to measure his/her other bracelets. This is also a great way but please note:
Bracelet length is NOT equal to wrist size as bracelet length stands for outer diameter while wrist size is inner diameter.
Please let us know XX cm/inches is "bracelet length" in the "wrist size column" or "order note" and send a picture of the bracelet you measured to support@azuro-republic.com or 

or contact our online chat room.




(the circumference in the picture is 7.25 inches / 18.40 cm.)
 Don't have a measuring tape?

 
1. Use a piece of string or paper to measure at the point just between your hand and the wrist bone and in a tighter fit.
2. Lay the string/paper back out on a ruler to get your measurement in inches or centimeters.
Please refer to below illustration for your easy understanding.
When ordering, please specify:
1. The exact number on the measuring tape
(in a tighter fit condition).
2. Your wrist circumference
in either centimeters or inches
.
3. You prefer your bracelet a little looser or tighter.


Keep in mind that we do need a wrist-size otherwise, we cannot fulfill your order. If you need any assistance, you can always send us an email (
support@azuro-republic.com
) or contact our online chat room.
- "16.3 cm" refers to the actual number on the tape (in a tighter fit and just below the wrist bone, not adding any space).
- The customer prefers a "tight fit" for his bracelet.
【Notice】Due to high order volumes, weather disruptions and the impact of COVID-19, DHL/FedEx deliveries may experience delays. Allow for additional shipping time to ensure your order is received by the desired date on.
Order Fulfillment (Free shipping for all orders)
Creating your custom made bracelet might takes 2-3 business days if you have provided a wrist-size as well as a valid address, it is then prepared for shipping. We use FedEx International Priority Shipping/DHL Worldwide Express, which has a delivery time between 4 and 7 business days.

Please note that we are not able to ship to an APO/FPO/DPO address 
 
Duties and Fees
Your order may be subject to VAT, import duties and/or taxes, due to the complexity of international laws we do not include those fees in orders. You are responsible for any local customs and duties on your order. We are required by law to disclose the full value of the package contents and cannot alter this value. 

If an order is refused, then you are responsible for the shipping expenses, as well as any additional duties, fees, customs or taxes incurred in shipping. 

 
Shipping Guarantee
We only work with FedEx/DHL, which is a well-established shipping provider and we place our faith and trust in them, however, we cannot guarantee their performance. Shipping mistakes are rare, but we can only guarantee what is in our control.